Its never too hard to make a
Bento
: )
But it turns out that my Bento looked a bit messy because I rushed it : O
since school starts at 7.20am. D: I gotta rush this within an hour Q A Q
I'll find some more time to make another bento : )
And here you go OwO /
An Amateur guide to making a bento XD
This is what I made : O
Starting with ( A ) : The Heart Shape HotDog :D
The one in the picture looks really ugly Q A Q I over-fried it GAHH.
You just need to get those
short Hot Dogs, or use both ends of a normal Hot Dog.
And
cut them in a slanted way
: ) (Make sure it is very slanted, well, not too slanted 8D)
and flip the other HotDog to make a Heart Shape : )
* If you wonder how I stick those two hot dogs together : )
I used a fried pasta
(which is hard and stiff )
to join them : )
( B ) : Flower-Shaped Carrot :D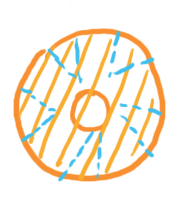 Like what you see from the picture above 8D just
CUT IT
8D according to the blue dotted lines LOL : )
( C ) : Cheese Lion
Like what you see from the picture above again xD
I used
cheese of two different colors
to make this : )
And I cut a pattern out from the darker cheese
(Refer to Black Line)
to make it look more like a LION 8D RAWR
I used
seaweed to create the eyes : )
If its hard for you to cut it.
I recommend you to
draw the shape on a tracing paper or baking paper.
Then place is on top of the seaweed as a cutting guideline : )
( D ) : Firework Egg 8D
Break those eggs and mix them until they look all yellowish 8D
and fry them 8D!
After that.
Flip it into half and just cut accordingly
like the picture above and slot it into ur Bento :D !
Make sure it has a
tight space to fit it in
so it can stand up like mine : O
( E ) : Firework... uh.. hotdog too? OAO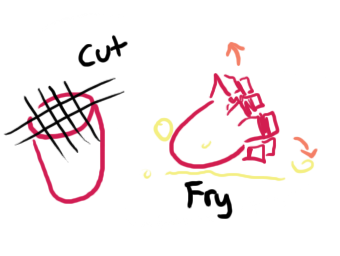 Well this is easy . OAO ....
You know what I mean. LOL 8D
And now you are ready to eat : O OMNOMNOM
| HOME |